A New Trilogy: The Enterprise Architect's Intro to Microservices
Before co-founding RedElastic, Kevin was Enterprise Architect and Advocate at Lightbend, specializing in advising Lightbend's Fortune 500 clients on topics such as enterprise modernization and adoption of modern architectural patterns.
In 2016 Kevin co-presented this series of webinars with Jonas Boner, the creator of Akka and co-founder of Lightbend. This series went on to become the most popular of the year.
The series is broken down into three parts:
Microservices, Monoliths, SOA and How We Got Here
The 6 Traits of Reactive Microservices: Isolated, Asynchronous, Autonomous, and more
Exploiting Reality with Microservices in Production Systems
For architects learning about microservices, this is a great place to start. A lot of effort was put forth to separate the benefits and traits of microservices from the hype surrounding the term.
View the webinar series and slides here.
The 6 Rules for Modernizing Your Legacy Java Monolith with Microservices
In this webinar Kevin covers the risk versus reward of migrating a legacy enterprise Java system to a modern microservices architecture. In order to provide clarity around microservices, we must delve into the architecture and engineering of a microservices system. To do this, we cover the following topics:
Domain Driven Design (DDD)
Asynchronous messaging
API management
Dependency management
CQRS & event sourcing
Transactions & ordering
Only when we have a complete understanding of the microservices ecosystem can we begin to weigh the pros and cons of a large-scale enterprise migration.
View the webinar and slides here.
Learning more about microservices
Legacy systems are difficult to maintain and enhance during development phases, and difficult to scale and manage at runtime. The webinars guide developers and architects to correct approaches for refactoring enterprise systems in order to take advantage of modern architectural approaches.
If you're interested in learning more about microservices, we highly recommend the following training programs from RedElastic:
Reactive Systems Analysis and Design – For teams just starting out with microservices, a common mistake is to jump into the technical architecture before understanding modelling techniques. This program provides the core skills required for both business stakeholders and technologists to model event-driven systems and gather requirements in a structure that is appropriate for a microservices project.
Implementing Microservice Architectures – Once your teams understand how to model an event-driven system, this program teaches the fundamental skills of building a microservices architecture from the ground up. We cover core design principles, integration patterns, handling data, cloud readiness, and infrastructure essentials. The material is taught using Play and Akka.
Production Readiness of Microservice Architectures – This program covers everything you need to know about launching a microservices platform in the cloud at scale. We cover edge cases and go deep into the infrastructure requirements that will make your launch a success!
Thanks to our partner, Lightbend
It's an incredible honour that Kevin Webber, CEO of RedElastic, was named a 2016 Lightbend Presenter of the Year based on the results of this series.
To everyone who tuned in and made these two of the most popular Lightbend webinars of 2016, thank you!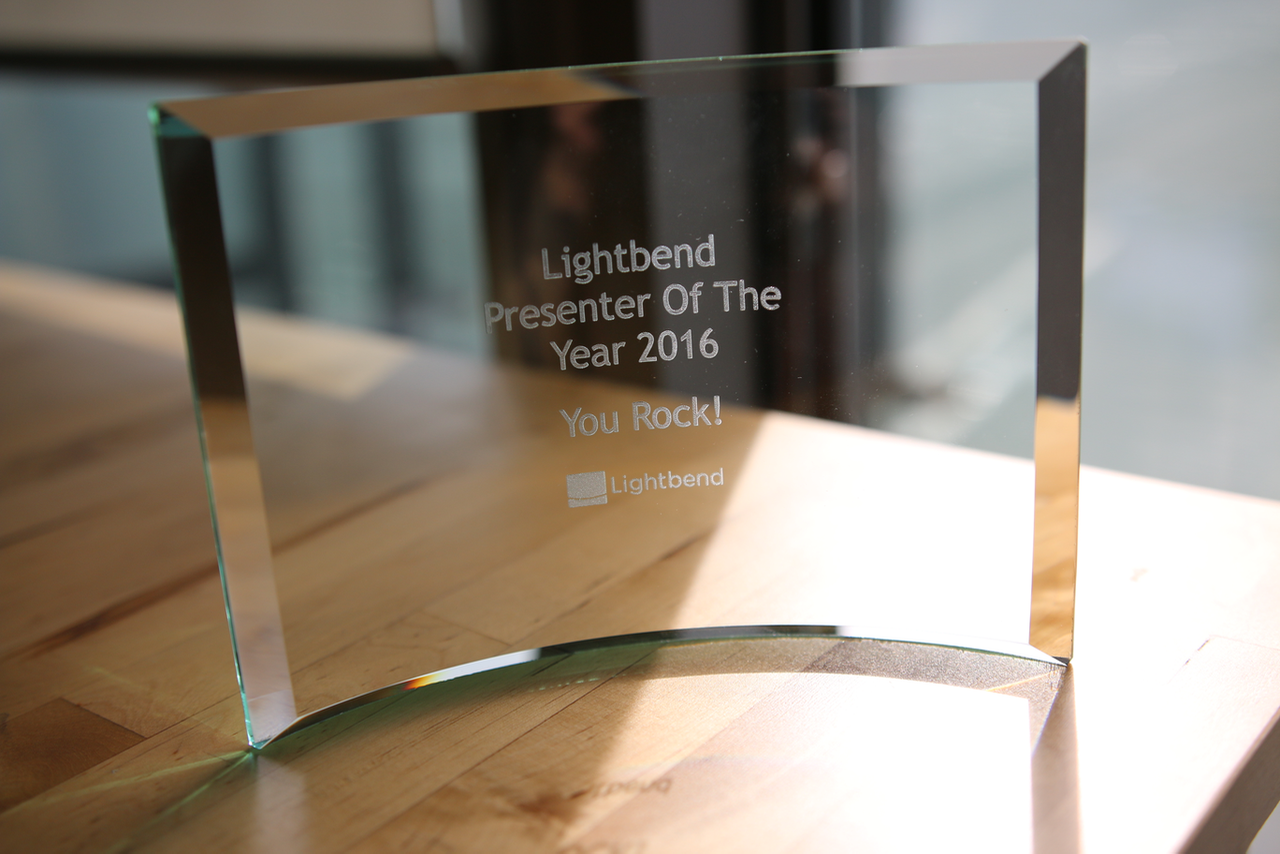 Let's discuss the webinars and how they relate to the wider topic of enterprise modernization, including cloud enablement strategies.